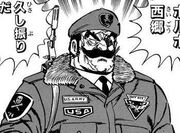 Onitora Bakuryū (爆竜鬼虎) is Jodie Karen Bakuryuu's father. As a colonel in the United States Army, he fought a lot of wars, so he has a lot of scratches. He is constantly hoping for his daughter to find the perfect husband.
Community content is available under
CC-BY-SA
unless otherwise noted.