Jodie Karen Bakuryuu


Personal Information
Japanese:
ジョディー・爆竜・カレン
Gender:
Female
Professional Statistics
Media Information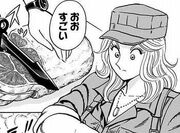 Jodie Karen Bakuryuu (ジョディー・爆竜・カレン, Jyodii Bakuryuu Karen) is the daughter of a high-ranking Japanese soldier and American mother who is the current girlfriend of Saigo Volvo. She is a pilot on the aircraft carrier Carl Vinson as soldier in the United States Navy. Jodie is very busty and has long, blonde wavy hair. She is the only character of foreign upbringing who appears the most frequently in the series, sometimes alongside her father. Unlike other characters, she speaks more English but is also fluent enough to communicate in Japanese. Jodie seems to be supremely strong and is a skilled fighter due to her experience from participating in both air and naval forces in the US with the help of her father.
Hoping to open up a sushi bar on her aircraft carrier, she received training as a sushi chef for a month at Chō Kanda Sushi.
Community content is available under
CC-BY-SA
unless otherwise noted.