Detective Dolphin


Personal Information
Japanese:
ドルフィン刑事
Professional Statistics
Media Information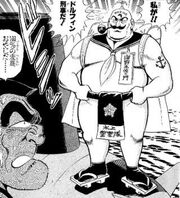 Detective Dolphin (ドルフィン刑事, Dorufin Deka) is the detective thoroughly skilled in water and sea-related means of tracking and catching criminals. He wears only a fundoshi (cloth designed to cover the crotch area), has the word 'MARINE' written across his forehead, long socks, shoes and hat-like object depicting a palm tree atop an island on the top of his bald head. He also carries with him a pipe which he uses to call dolphins where needed.
His real name is Dozaemon Umino (海野土佐ェ門 Umino Dozaemon).